Being
Centered
by Roman Oleh Yaworsky
SpiritUnleashed Publications (First printing, 2007)
9 x 6, 278 pages, acid free paper
Copyright © 2007 by Roman Oleh Yaworsky
Order your copy of
Being Centered today!
At SpiritUnleashed (save on shipping)
At Amazon
Also available as a Kindle e-book
Read reviews
Home
Part 1 – The Foundation
Being Centered: Living from your authentic self
The Inner child: Learning to act from your core
Feelings and Emotions
How Did We Lose Our Inner Child?
Young Face, Old Face: Your Postures in Life
Part 2 – Relationship
The Power of Relationship: Relationship is destiny
Healing the Fire Within: Revealing your heart
The Heart of the Matter: Recovering your heart
The Mind and the Heart
Part 3 - Regaining Your Center
Regaining your Power: Your own healing journey
Inner and Outer Will
Another Approach to Your Ego
Direction: Knowing what is in your heart
Sin: Separation from your Inner Nature
Who carries the responsibility for your life?
Addiction: What are you addicted to in your life?
Overcoming Addiction
Taking Care of What You Hold in your Heart
Grace
Resources
Putting it all Together
Excerpt from

Resources
To help you in the process of becoming centered, and to sustain your effort, I have included some suggestions and resources. Consider what I have written a short introduction and a personal invitation for you to experiment further.
Getting rid of what does not support you
Many people forget that the key and goal of transformation is to let go of what holds you back. Often what holds you back is referred to as 'garbage.' Transformation is not about making a better home for your garbage. Spending long sessions talking about garbage, analyzing garbage, sharing garbage or seeking support for holding on to garbage, simply adds to the garbage. The biggest trap when seeking support for getting rid of garbage is to try to share and be accepted for the weight and importance of your garbage. Sometimes, it is a rude and disappointing shock that people do not want your garbage when it is offered. More often than not, those that do accept your garbage, have their own to share in exchange.
Remember what you came to do. The easiest and most direct way of dealing with garbage is to throw it out. Really. What holds you back is not your heart talking, it is the garbage.
Unfortunately the garbage i.e., your emotions, want to talk and share, and so talking about them may not be the best choice of action. Remember that emotions are like feelings without will. Being caught in expressing emotions, sharing them, analyzing them and so forth, does little good, unless the will is re-introduced. Therefore, as a starting place, use your will — and throw out all of the garbage!
What follows are various means of self-support for this process . . .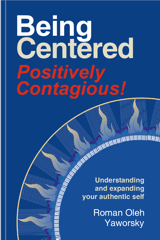 Order your copy of
Being Centered today!
at SpiritUnleashed
at Amazon
Read reviews